LOOK F/W 2012-2013 NYC Lanvin & Rick Owen
Como ya antes mencionaba, la temporada de Primavera / Verano esta por acabarse y es mejor actualizarse con las siguientes tendencias de maquillaje que están por llegar. Para que tomen sus precauciones y comiencen a crear tendencias y probar maquillajes nuevos.
En el post anterior escribí sobre la próxima intensidad en los labios y ahora quiero hablarles sobre el complemento del maquillaje.
La finalidad de aplicar un tono intenso en los labios es que se encuentre en equilibrio con lo ojos, y se pretende un look muy natural en tonos vainilla, rosas, duraznos, cafés Asimismo dejando resaltar los labios.
O bien, optar por un delineado inspirado en los años 40´s y 50´s grueso y ahumado terminando en punta. Aunque si no te acomodas queda otra propuesta presentada por el gran diseñador Roberto Cavalli en el pasado New York Fashion Week que son ojos ahumados en cobres, cafés intensos, púrpura y verdes dejando unos labios mas naturales. :)
Espero que te sea de ayuda las propuestas que les enseño.
Aqui les dejo unas imagenes y una vez mas gracias por leerme.
Les cuento que ya abri la fan page de mi blog, la verdad tengo serios pleitos con la tecnologia jaja y nose aun como ponerle el link para que le den LIKE, abajito les dejo el link para que lo hagan, ¡AHORA! Muchas gracias por todo y sus lindos comentarios.
As mentioned before, the Spring / Summer is about to end and is best updated with the following makeup trends that are coming. To take precautions and begin to create new makeup trends and test.
In the previous post I wrote about the next intensity on the lips and now I want to talk about the addition of makeup. The purpose of applying a deep shade on the lips is to be in equilibrium with the eyes, a very natural look in shades of vanilla, pink, peach, coffee also highlight the lips leaving.
Or, choose the years outlined in 40's inspired 50's thick and smoky ending in a point. Even if you settle is another proposal by the great designer Roberto Cavalli in the past New York Fashion Week are in copper smoky eyes, intense brown, purple and green, leaving lips more natural. :)
Hope you support the proposals is that they teach.
Here I leave some pictures and once again thanks for reading.
I tell you already opened the fan page of my blog, the truth I have serious quarrels with the technology haha and don´t know how to put the link to give you LIKE, just below is the link to do it, NOW! Thank you very much for everything and your lovely comments. :D
Roberto Cavalli NYCFW F/W 2012
Roberto Cavalli Makeup FW 2012
Prada, Milan FW fall/winter 2012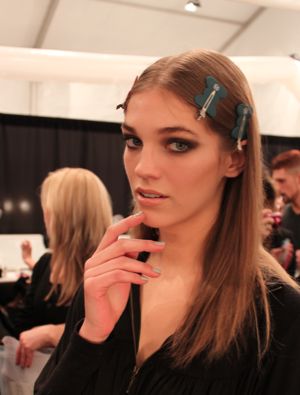 My recommendation is that accommodates every makeup trend according to your personality. :)
Mariana