Hola Chicos, ¿Como estan? ¿Como va empezando su semana? Espero que bastante bien al igual que yo. Esta ves no les presentare outfit, les quiero hablar de las tendencias de primavera-verano, se que es un poco tarde para darles la noticia, pero recibi comentarios sobre lectoras que aveces no tienen ni idea de como vestirse y quieren saber de tendencias de moda y maquillaje para estar al ultimo grito.
Les presentare varias tendencias que ahora estan pegando muy fuerte para que chequen el dato, espero les guste y comenten. :D
Lo que pasa es que aveces no tengo mucho tiempo para publicar mis outfits, estaba pensando en cada semana publicar sobre fashion bloggers, diferentes estilos, moda de la calle y conocer mas sobre gente interesante que ha tenido diferentes logros. ¿Que les parece? Creo que es un muy buena idea!! :D
Besos y gracias por visitar mi blog. :)
TRANSLATION:
Hi guys, How are you? I hope that pretty well that as I, this time I want to talk about spring-summer trends. Yeeeees, I know that it's a little late to break the news, but I received some comments from readers who want to know about fashion and makeup trends.
I will share some trends that now are very strong. Sometimes I don´t have the enough time to publish my outfits, but I can do with images and references of fashion bloggers, magazines, web pages.
I hope you like the post and your comments!! :D
I was thinking about to publish weekly about fashion bloggers, important Makeup artists and VIP people in the fashion&beauty trends and fashion!! :D What do you think??? :D I think it´s a good idea to learn about more styles, street fashion and know more about people who have had different achievements. Interesting!! :D
Kisses and thank you for visit my blog.
Trend #1 CAPRI.
Muy comodo y lo puedes utilizar para un look formal o informal, con tacones, con flats, con sandalias o bostonianos.
Comfortable and you can use it from a fromal o informal look; with high heels, flats, sandals or with a bostonians.
via www.lovelypepablog.com
TREND #2 Maxi Skirt.
AMO esta tendencia, tengo una obsesion con las faldas largas, me he comprado varias que espero pronto enseñar antes de que pase esta tendencia. Las puedes combinar con todo, son muy comodas y ligeras y de paso dejas descansar a tus piernas de los jeans. ¡Corran a comprar la suya!
I LOVE this trend, I have an obsession with this maxi skirts, I bought some that I really hope show you before this trend ends. Goes with everything!! Run to buy yours!! :D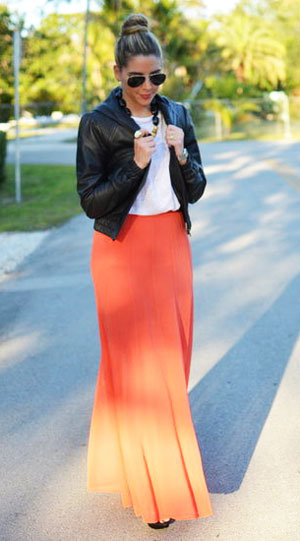 TREND #3 PRINTS.
Los estampados estan muy fuertes esta temporada y todo pinta para que esta tendencia dure un buen tiempo. Me encanta, puedes llevar varios y en todas partes: blusas, pantalones, sacos, bolsas, etc.
¡Pierde el miedo y crea tendencia!
The prints are very strong and probably live a long time. I love them, you can use them in various garments: skirts, shirts, pants, shoes, blazers, bags, etc... ! :D